Spain's economy minister sees Q4 growth similar to Q3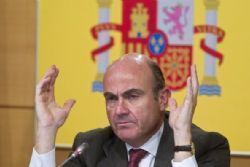 Spain's Economy Minister Luis de Guindos said he expects economic growth in the fourth quarter to be in line with the 0.5% rise registered in the third, putting the country on track to meeting its 2014 target.
"The scarce indicators seen until now indicate an evolution very similar to Q4. Therefore, the 1.3% growth target for the full year is guaranteed," de Guindos said, according to a transcript of a speech in parliament.
Recommended Reading :
* Brussels reduces Spain's 2015 growth forecast from 21% to 17%
* Fitch's affirms Spain at BBB+ / Outlook Stable
* Spain 2nd highest inequality in the EU : Oxfam