Interpol asks Spain to arrest 20 for Franco-era crimes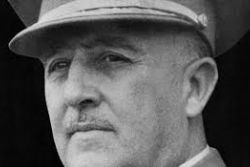 Interpol's bureau in Argentina on Wednesday asked Spanish authorities to arrest 20 individuals wanted for extradition for Franco-era crimes, including two former Cabinet ministers.
It also called on Madrid to provide identifying data on the accused as an "indispensable" pre-requisite for a complete international arrest warrant to be sent out to all Interpol members states.
The 20 Spanish ex-officials suspected of crimes committed during dictator Francisco Franco's 1939-1975 regime and the 1975-1977 transition to democracy include former Cabinet ministers Rodolfo Martin Villa and Jose Utrera Molina.
Argentine Federal Judge Maria Servini de Cubria ordered their arrest in late October.
The 80-year-old Martin Villa, who served as labor minister between 1975 and 1976 and had previously held senior posts during Franco's regime, is accused in the March 1976 deaths of five workers during police action in the northern Spanish city of Vitoria to quell a protest.
Utrera Molina, housing minister in 1973 and minister secretary general of the Franco-led National Movement party from 1974-1975, is accused of signing the death sentence handed down to anarchist Salvador Puig Antich, who was executed in 1974 in what was the last use of the garrote as a method of capital punishment in Spain.
Utrera Molina is the father-in-law of Alberto Ruiz Gallardon, who was justice minister in current Spanish PM Mariano Rajoy's Cabinet from December 2011 until September of this year.
The complaint that led to the Argentine court's investigation covers a period between July 1936, when Franco led a military uprising against the elected government, and July 1977, when Spain held its first democratic elections following the dictator's death.
The Argentine federal judge invoked the principle of universal jurisdiction, which holds that courts in any country may act in instances of offenses deemed crimes against humanity.
Spanish Justice Minister Rafael Catala said Wednesday that Spain will refuse to extradite the 20 Franco-era officials to Argentina, telling reporters that a previous National Court ruling already established a precedent.
He added that the statute of limitations has expired in their cases and that their alleged crimes predate Spain's 1977 Amnesty Law.
Spain's National Court earlier this year refused to extradite two other individuals who had been ordered arrested by Servini for Franco-era crimes - former police inspector Antonio Gonzalez Pacheco, alias Billy the Kid; and ex-Civil Guard Capt. Jesus Muņecas Aguilar.
The high court ruled in April that the statute of limitations had expired and that the crimes they were accused of did not constitute genocide.
Recommended Reading :
* Argentina asks Spain to extradite Franco era crimes