Spain prepares to recognise State of Palestine (but not Catalonia)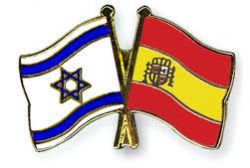 The Spanish parliament may approve recognition of Palestine as a state for the first time, if ongoing negotiations between the ruling Popular Party (PP) and opposition groups prosper.
Foreign Minister José Manuel García-Margallo met on Thursday morning with representatives of the Socialist Party, the Catalan CiU bloc and the PP to discuss the terms of such a move.
On Tuesday, the lower house will debate a non-binding motion presented by the Socialists asking the government to "recognize Palestine as a State […], out of the conviction that only a situation with two coexisting States, Israel and Palestine, can ensure the dialogue and negotiation that may lead to agreements guaranteeing peace and security for both, respect for citizens' rights and stability in the area."
Diplomatic sources said that the Foreign Ministry is not rejecting the Socialist initiative, which does not establish any deadlines for official recognition and leaves its execution up to the government.
But Israel has already criticized the symbolic move. Emmanuel Nahshon, spokesman at the Israeli Foreign Ministry, said that the Spanish motion currently being negotiated "is not useful."
"Our position is very clear, it is the same one we maintained during the British vote and it will be the same with France: this recognition is not useful and it sends Palestinians the message that they don't have to negotiate with Israel to get their state, that it's enough with a unilateral strategy and partial support from some countries, even if they are from the EU."
Spanish parliamentary sources said it is very likely that political parties will agree to a final text that could receive unanimous approval by lawmakers next week. This would be very significant politically, although it would have few practical consequences in the short term as it remains a non-binding request.
Sweden was the first EU member state to unilaterally recognize the Palestinian state by law, triggering protests from Israel. The British House of Commons and the Irish Senate have asked their governments to follow Sweden's lead. The French National Assembly will debate a similar motion on November 28.
The new High Representative for Foreign Policy and Security for the EU, Federica Mogherini, has set herself the goal of having a Palestinian state within the next five years.
More than 300 figures from Israel's political left have asked Spain to lead the effort to get Palestine recognized as a state. Spain was one of the EU countries that supported including Palestine as a non-member observer state at the United Nations in 2012.
Meanwhile, the Spanish Central Government is taking measures at home to prevent residents of Catalonia from holding a legally binding referendum on becoming an independent state. More Hypocrisy, Sr Rajoy ?
Recommended Reading :
* Catalan Vote 'Useless and Anti-Democratic'
* The Hypocrisy of Spanish Justice