Bolivia Compensates Spain for Nationalisation of Electricity Infrastructure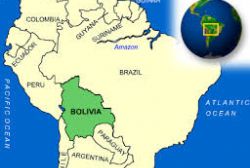 Bolivia's government on Thursday agreed to pay EU29.25 Mln in compensation to Spanish electric utility Red Electrica de Espańa (REE) for the May, 1, 2012, nationalization of its subsidiary in the Andean nation, officials said.
Attorney General Hector Arce provided details of the agreement to reporters in a joint press conference with Spain's ambassador to Bolivia, Angel Vazquez, and representatives of the Spanish company.
Bolivia's government will pay REE EU29.25 Mln, or just over 18% of the amount the Spanish company had demanded as compensation for its 99.94% stake in Transportadora de Electricidad, Arce said.
REE's stake in Transportadora de Electricidad, Bolivia's main grid operator, passed to state-owned Empresa Nacional de Electricidad.
Bolivian President Evo Morales, a leftist who had used previous May Day observances to announce similar moves to assert public control over the Andean nation's resources and basic services, said at the time that the Spanish company had made inadequate investments in its Bolivian operations.
In February, REE served an international arbitration notice to Bolivia's government in which it demanded more than EU160 Mln in compensation, but Bolivia succeeded in lowering that amount during negotiations, Arce said.
Recommended Reading :
* Bolivia follows Argentina in seizing control of Spanish companies