Murcia's Corvera Airport will "cost money, not generate wealth"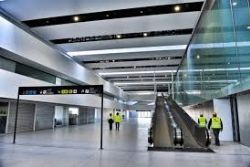 Business leaders yesterday told the government of Murcia of their concerns that Corvera Airport would actually cost the region money, rather than generate wealth.
The Employers are apparently frustrated by the regional government's inability to open the facility more than 3 years after work was completed on the airport, with endless talks being held between various national and regional ministries, AENA and Aeromur.
The original date of opening for the airport was placed at May 2012, however a number of problems saw the date pushed back, with current estimates placing the date of operation sometime around April or May 2015.
In a joint statement, the association of Employers and the Chamber of Commerce of Murcia warned that the daily cost of maintaining Corvera Airport is "another handicap... intended not to cost money, but to create wealth".
They maintain that until Corvera airport is operational considerable harm is being done to the regional economy, and went on to cast doubts on the potential for the airport to operate profitably.
With the Government placing projections of some 3 Million passengers per year - compared to the 1.14 Million seen at San Javier during 2014 - the Businessmen questioned the likelihood that the extra 2 Million passengers could be attracted from Alicante airport.
Recommended Reading :
* Corvera certificates required end 2014 or new application required
* Murcia to pay EU7Mln in Corvera Airport interest by end 2014