Spanish consumer association calls for end to Airport privatisation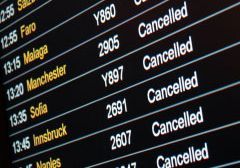 Spanish Consumer Action Group FACUU have called for the Government to block the privatisation of AENA, the Spanish public airport management company.
The association warns of the lack of transparency in the proceedings, which has even led the Government to extend the deadlines originally planned because of the lack of clarity in the negotiations. The move represents the biggest sale of public assets in the last 16 years.
The association has called for consumers to be permitted to have the opportunity to voice their opinion on the issue of privatisation by actively taking part in airport coordination committees and committees - specifically in the case of airports which see in excess of 8 Million passengers per year.
As already seen in the privatization of Spain's gas, electricity and petrol sectors, FACUA believes that AENA's privatisation will result in a sharp increase in airport fees in the coming years. The federation also claims that the privatisation will jeopardize initiatives that are not financially profitable for investors, even if they are socially valid and of benefit to the environment and the citizens, who should have their right to mobility and connectivity ensured.
FACUA points out that the Government has exposed itself to this kind of risk with the Royal Decree 8/2014, dated on July, the 4th which approves urgent measures for growth, competitiveness and efficiency. Under the terms of the decree many of the existing laws have been amended, thus for the first time authorizing the Council of Ministers to close Airports that are not financially viable without taking into account the requirements of those needing to travel to and from the surrounding area.
Thus, by continuing with the privatisation process, the quality and safety of public services will drastically be deteriorated, leading to an increase in users' complaints.
Public Administration guarantees minimum standards and consistent quality of service, together with total transparency and the participation of those affected by the decision-making. It also requires the reporting of the accounts of all airports, thereby ensuring the quality of the public service and the mobility and connectivity of citizens.
On the other hand, privatisation can lead to the creation of a tariff deficit for the sole purpose of ensuring investors' benefits, with total disregard of users' interests.
FACUA believes that rather than relying on market strategies, keeping these services public is a guarantee of accessibility, universality and continuity of service, regardless of economic situations.
Recommended Reading :
* Spain postpones IPO for AENA sale
* Spain freezes Airport tariffs until 2025