Nov 20th 2011 : Flashback to Rajoy's first address as Spain's new PM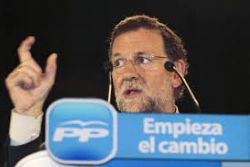 On Sunday 20th November 2011 the leader of Spain's Partido Popular (PP) was elected into Government in a landslide victory.
Whilst not especially newsworthy, I wanted to share with you a translation of the inaugural address Rajoy gave as Prime Minister :
"The Spanish have voted to trust the PP in Governing Spain in the coming years. Just a few moments ago I received phone calls of congratulations from Mr. José Luis Rodríguez Zapatero and the PSOE candidate, Don Alfredo Perez Rubalcaba. In turn, I would like to express my respect for the both of them, and look forward to a smooth handover and a successful future relationship.
My first words are addressed to the Spanish people. Their participation in these elections is the strongest proof of democratic maturity in these difficult circumstances.
I wholeheartedly thank the millions of Spanish people who have placed their confidence in the PP and am honoured by the responsibility we have been given... and I want to address all of those who voted for us today and to say that I am fully determined to be the President, who will govern the service of Spain and ensure that nobody feels excluded from the common task.
None should be concerned, I have no enemies other than unemployment, the deficit, excessive debt, economic stagnation and anything else that keeps our country in these critical circumstances.
We are facing a decisive moment in Spain, at a crossroads that will determine the future of our great country, not in the next few years, but in the coming decades, and it is these moments is when you measure the mettle of men and peoples.
It's no secret that governing the country is about to be the most delicate situation Spain has seen in the last thirty years.
But for now I would like to confirm our commitment... and to achieve this, we all have to contribute the best of ourselves ... especially those who are in difficult situations: those who have lost their jobs or can not find their first job, who have been forced to close a small business, who live on a pension that barely covers their basic needs, those who suffer any form of illness or misfortune. To all of them I would like to offer a message of unity, encouragement, and trust. Everyone should be aware that we will do all that can be done to improve their situation.
We would like to return some pride back to the country, based around, effort, merit, risk, innovatation and solidarity. I've said it many times and I repeat it today: ours is a great nation. But even great nations sometimes forget that they are and engage in small things. I do not want that to happen again and to avoid it I call for no sectarianism, small quarrels or artificial divisions that distract us or delay us in the effort.
...And we are a great nation, because our diversity is a source of greatness and enriches us - and should continue to do so. But this diversity has to be tied to a principle of solidarity, more necessary than ever in these times.
.... and we want to be great within our broader area of ​​integration in the EU, as tooday, more than ever, our destiny is played in and with Europe.
The word of Spain has to be respected once again in Brussels, Frankfurt and wherever our interests are played. We will be the most loyal, but also the most demanding of partners. We will be more compliant and more vigilant. We will no longer be a problem, and return to being a part of the solution.
The Spanish people have spoken loud and clear, deciding to break with the current sitaution and embrace the changes proposed... There will be no miracles, and we have not promised any. But when things are done right, the results will come. I trust that work, seriousness and constancy, which are the principles that have accompanied me throughout my life, will also allow us to see the fruits of our labour sooner rather than later. I invite you all to share that confidence."
Recommended Reading :
* Spain's Podemos overtakes PP in opinion poll
* Rajoy : "Sorry for corruption"