Spain's trade deficit reaches EU18.854 Bln September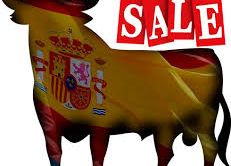 Spain's trade deficit reached EU18.854 Bln during the January-September period this year, meaning a 71% increase in comparison with the same period in 2013, official figures showed Monday.
Both imports and exports increased in the first nine months of the year, according to data published by the Spanish Ministry of Economy and Competitiveness.
Imports increased by 6% year-on-year to a total of EU197.245 Bln thanks to a better performance of Spain's domestic demand, the ministry said.
Meanwhile, the figure revealed how exports increased by 1.9% year-on-year to a total of EU178.390 Bln.
Exports shipped to the eurozone countries increased by 4.5% accounting for 49.9% of the total, while those to third countries fell by 2.1% year-on-year representing 36.3% of the total.
The Secretary of State for Trade, Jaime Garcia-Legaz, said that Spain will end 2014 with the lowest trade deficit in the last 40 years. Garcia-Legaz, who was presenting a report on Friday on the Spanish economy, believes that Spain should export more in order to strengthen its economy.
He stressed on Friday that as 90% of global GDP growth will be outside the EU in the coming years Spain has to focus in the Asian, the U.S. and African markets.
Recommended Reading :
* Spain's economy sees Q4 growth similar to Q3
* Spanish manufacturing expands for 11th straight month in October