Bank of Spain calls for increased deficit cutting efforts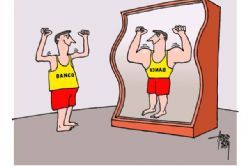 Spain must increase budget efforts, especially in the regions, to meet its end-of-year public deficit target as current growth forecasts face risks from the global slowdown, the head of the Bank of Spain said on Wednesday.
Spain's public deficit soared to one of the highest in the euro zone after a burst property bubble in 2008 sent the economy into a downward spiral it only emerged from mid-2013.
While austerity measures and an improving economy has eased the pressure on the Treasury to close the budget gap, many regions are still struggling amid a nascent economic recovery.
"To meet the deficit target requires an improvement... in income and reduced spending in the last third of the year larger than that seen between January and August," Bank of Spain Governor Linde told the upper house of Parliament.
"This increased effort should concentrate on the regions in which, according to available information, the greatest risk of deviation are found."
Spain's deficit target of 5.5% of GDP this year was achievable, Linde said, though he warned the 4.2% of GDP target for 2015 would be more difficult.
Meanwhile, Treasury Minister Cristobal Montoro admitted that the regional deficit reduction targets were strict, but said measures to reduce the budget gaps had been essential in reactivating the economy.
"The deficit targets for the regions are demanding, but the deficit reduction policies are what are allowing us to get over the economic crisis and leave job destruction behind," Montoro said in the lower house of parliament.
On the economy, Linde reiterated that annual growth could come close to 2% by the end of the year and through 2015, though warned risks remained.
"The expectations for the Spanish economy remain favourable, though not free of risks," Linde said.
"Our economy has shown, until now, resistance to a worsening global situation, however, we can't think that we can we can totally avoid a loss of momentum in our foreign markets, especially in the euro zone."
Continuing public and private debt reduction could also hurt a recovery in domestic demand, he added.
Recommended Reading :
* 20th Nov 2011 : Flashback to Rajoy's first address as Spain's new PM
* Brussels reduces Spain's 2015 growth forecast from 2.1% to 1.7%