50% of Spain's workers earn under EU1,000 per month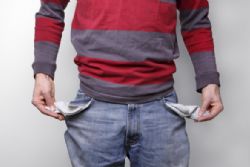 Following 5 years of economic crisis, a long recession and austerity policies, almost 50% of Spanish workers earned less than EU1,000 per month while one-third did not even reach the minimum salary of EU645, according to data published Friday by the tax revenue agency, based on tax returns presented last year.
Out of 16.6 million employed last year, 7.7 million had a salary of less than EU1,000, while 34% did not make the minimum salary.
The data included, among others, workers with short-term and part time contracts, almost all youths. In particular, 86% of 39,168 under-18 workers earned less than the minimum salary; while over 1.1 million workers aged 18 to 25, or 74.4% of the total, made less than EU645 a month, or the minimum salary.
The average gross salary declared by companies last year was EU18,505 per year, or EU1,320 a month for 14 months, without welfare payments, according to the report 'Labor market and pensions', released by thjle agency.
By subtracting 16.47% of personal income tax and an average 6.5% for welfare taxes, the net salary did not reach EU1,000.
According to the data, 16.7 million Spanish workers in 2013 remained below that threshold, out of 26.3 million salaried workers.
And the same was true for pensioners: 9.2 million received an average gross pension of EU12,954 per year, or EU857 net a month after an average taxation of 7.36%.
For their part, the 5.7 million unemployed declared by the public administration received on average financial support worth EU3,828 a year, or EU317 net a month for 12 months.
Recently, the European Commission slammed salary cuts in Spain following the economic crisis as ''slow, ineffective and unjust'', given that they mostly affected workers with short-term contracts and not workers with open-ended contracts.
Recommended Reading :
* Spanish politician pay Octopus EU60k salary
* 12.3% of working Spaniards and poverty line