75% of Canary Island residents oppose oil exploration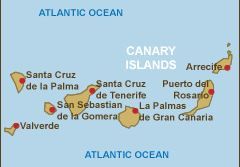 The results of a survey conducted by the Canary Islands government shows that 75% of the region's inhabitants oppose offshore oil prospecting in the area.
Prospection work has been underway in waters off the archipelago since last Tuesday after Spanish oil giant Repsol was authorized to search for oil off the coasts of Fuerteventura and Lanzarote.
Last week a Greenpeace activist was injured in a skirmish between vessels belonging to the environmental organization and the Spanish navy. The regional government has also been a vocal opponent of the exploration project, alleging it poses potentially devastating ecological risks in an area that lives off tourism.
The survey, which sought the opinion of 2,772 Canary Islands residents on the matter, serves as a mock referendum after the Constitutional Court suspended the regional authorities' attempt to conduct a binding plebiscite, mirroring the Catalan referendum case.
According to this 10-question poll, three out of four Canarian residents oppose oil exploration on or near the islands and support sustainable tourism instead. Repsol's initiative only garnered 15 percent support, with the rest of respondents failing to express an opinion on the matter.
The results have led regional premier Paulino Rivero, of the Canaries Coalition, to insist that Madrid is ignoring the will of Canarians. Rivero warned that if local sentiment was not taken into account, people would "rebel."
Rivero feels that what the issue symbolizes is not a confrontation between the general interests of Spain and those of the Canary Islands, but rather "a head-on collision between the interests of a multinational and the interests of the Canarian people." He warned about the potential damage to the tourism sector as a result of "a multinational's greed in connivance with the central government."
Recommended Reading :
* Spanish Navy rams Greenpeace vessel off Canaries
* Spain defends Canary Islands oil proposal