Spain to undertake saftey checks across 9 dams, 3 rivers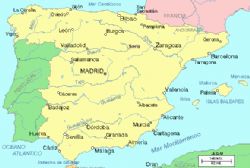 The agency governing the water resources of Spain's Tajo River Basin is seeking bids for the undertaking of dam safety studies of nine dams and reservoirs across 3 Spanish rivers by the end of the year.
Confederacion Hidrografica del Tajo is responsible for flood control, water supply and dam safety on the tributaries and mainstream of the Spanish portion of the Tajo (or Tagus) River, which is shared with Portugal.
In the first of two tenders, the agency is looking for bids to conduct an overall review and analysis of the safety of Rosarito, Navalcan, Finisterre and El Castro dams and their reservoirs on the Tietar and Algodor rivers, expected to be 6 month's work and at an estimated value of EU135,784 .
In the second tender, the Burguillo, Charco del Cura, San Juan, Picadas and Cazalegas dams and their reservoirs on the Alberche River will be surveyed, again lasting approximately 6 months, and at an estimated vales of EU168,000.
Recommended Reading :
* Spain defies EU ruling on Segura-Tagus water
* Spain sees worst drought in 150 years