Rajoy's anti-corruption measures : 2 years of nada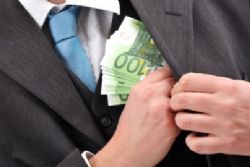 El Pais has reported how none of the anti-corruption laws that PM Mariano Rajoy promised 21 months ago have come into effect.
On February 20, 2013, during his first State of the Nation address in Congress, the conservative leader announced a raft of measures to "regenerate" Spanish democracy and appease growing social anger at the political corruption cases making headlines on a nearly daily basis.
But some of these measures are currently stuck in congressional gridlock; others have not even undergone review by the Cabinet, and there are more that have no chance of passage in the year that is left before general elections.
On Thursday, Rajoy, of the Partiodo Popular, will address Congress again to defend the same measures for the 3rd time.
He will do so at a time of great concern among mainstream politicians over the rise of Podemos, a new party that burst into the scene at the European elections in May. With its radical rhetoric of change, support for Podemos has been spreading like wildfire and sending shivers down the spines of "the caste," the term Podemos uses to talk about a clique of politicians and entrepreneurs who they claim share out the country's wealth among themselves.
But outward displays of zero tolerance for corruption among the mainstream parties have yet to produce any major results. Two of the bills that Rajoy will champion on Thursday - involving party financing and oversight of high-ranking officials - reached Congress on February 22 of this year, and have since remained blocked through the PP's actions. Both bills had their amendment deadlines extended 27 times, an unusual situation.
Back in February 2013, Rajoy promised that the first law would "create greater demands on parties and give more tools to the Audit Court," while the second one would "convey to citizens and politicians the assurance that everyone working in politics will be equally beholden to the same obligation of transparency."
His proposals also included a new Penal Code that reached Congress on September 24, 2013 and has had 41 amendment deadline extensions.
Several legal experts, including Attorney-General Eduardo Torres-Dulce, expressed doubts that it would be an effective way to fight corruption. In any case, the project got bogged down to the extent that the government may drop part of it and focus on just a few elements to push it through Congress and the Senate in time.
Meanwhile, the Transparency Law will not go into effect until December 10, and even then there is an item about airing the personal wealth of high-ranking officials that will not apply to anyone appointed before July 2013, because of a pre-existing regulation. This exception will benefit 257 public officials.
The PP and other parliamentary groups also agreed to create "an independent committee made of individuals of great renown and social prestige to draft a report on democratic regeneration for parliament." No attempt was ever made to actually put this committee together.
Other initiatives that fell by the wayside include a new law for the Audit Court, which has been rocked by a series of scandals of its own; a reform of government procurement; control over lobbies and a new Budget Office for parliament.
On August 1, 2013, with the Gürtel bribes-for-contracts case in full swing, Rajoy returned to Congress to announce "an authentic National Plan for Democratic Regeneration which we hope will secure the greatest possible consensus in this house."
Meetings between the PP and the main opposition Socialists (PSOE) made no headway because the latter refused to include a reform of electoral laws into the package, effectively blocking any possibility of a cross-party agreement on national democratic regeneration.
With only one full session left, between February and June 2015, Spanish parliament now faces the daunting task of achieving in 5 months what it has not done in the last 21 months.
Recommended Reading :
* Rajoy : "Sorry for Corruption"
* Rajoy : "Spain is not corrupt"