Spanish Police bust people-trafficking gang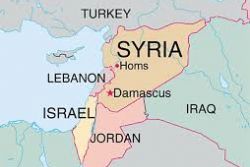 Spanish police said on Tuesday they have detained 18 members of a trafficking network that charged Syrian migrants as much as €10,000 per head for passage to Europe, often via circuitous routes through South America.
About 165,000 Syrians have sought safety in European Union countries during their country's three years of civil war, according to the EU statistics service. And governments are struggling to resettle them. Spain, which has agreed to accept just 100 Syrian refugees this year, began stepping up border enforcement last spring as police detected increased traffic of undocumented Arab migrants.
Police said the Spanish-based network offered forged documents, airline tickets and assistance to reach destinations in Northern Europe. Migrants typically took flights from Arab countries to Brazil, Peru, Venezuela or Colombia, and, from there, to Madrid.
Police said that in Madrid the migrants were put on northbound buses mostly to cities in France and Germany, where they were more likely to be granted refugee status and find jobs.
Spanish authorities estimate that 2,000 Syrians with fake papers, mostly women and children, have reached Spain this year. Besides those routed through South America, officials say, hundreds of Syrians have reached Spain with documents obtained in Morocco from residents who are authorized to enter one of two Spanish enclaves on their country's Mediterranean coast.
Police said the network was headed by a Lebanese citizen living in Madrid. They added that they also detained seven other Lebanese, two Spaniards of Lebanese descent, two other Spaniards, three Syrians, a Moroccan, an Ecuadorean and a Ukrainian. Police said all are Spanish residents. Payment for their services was transferred to Spain through Turkey in sums of less than €3,000, police said.
Recommended Reading :
* Spain accused of violating EU border laws in Ceuta and Melilla
* PP seeks to legalise spot deportations of illegal immigrants