Rajoy: "There is no such thing as generalized corruption in Spain"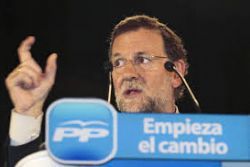 PM Mariano Rajoy addressed Congress on Thursday to talk about corruption and uphold the honesty of the majority of Spain's politicians.
"There is no such thing as generalized corruption," said Rajoy, of the conservative Popular Party (PP). " I cannot accept seeing the suspicion of corruption extend to all politicians. I can understand citizens' irritation and mistrust, but neither feeling justifies casting a general shadow of doubt."
The widely anticipated speech took on added meaning because it came just hours after Health Minister Ana Mato was forced to resign over her alleged involvement in the Gürtel bribes-for-contracts scandal.
While Mato reportedly had no plans to step down, mounting internal pressure forced Rajoy to let go of one of his key officials at a delicate time for the party in power.
A series of scandals involving officials from the ruling party, the latest of which is the Púnica case, forced Rajoy to personally apologize to all Spaniards a few weeks ago "in the name of the PP."
Meanwhile, the main opposition Socialists (PSOE) have been struggling with corruption cases of their own, most notably the ERE scandal in Andalusia involving fraudulent use of a regional fund for struggling businesses. Those under investigation include two former regional premiers and an ex-minister.
Speaking after Rajoy, Socialist secretary general Pedro Sánchez sought to portray his party as less tainted by corruption than the PP, and said the PM was in no position to lead a national anti-graft campaign.
"After knowing that your party profited from Gürtel you're in no condition to regenerate Spain against corruption. You have neither the ability nor the legitimacy to lead this," said Sánchez, a relative newcomer to politics who was elected Socialist leader last summer on the promise of deep internal change.
"I do not sit in a building built with black money, my former treasurer is not in prison, and I never received an envelope allegedly containing undeclared cash," he told Rajoy, in reference to several scandals affecting the PP. "The common enemy is corruption, even if it doesn't affect us equally."
The mainstream parties have admitted that growing citizen anger at corruption is behind the meteoric rise of Podemos, a new leftist group that promises to sweep the political "caste" off the map and give Spain a fresh start with clean leaders who are not beholden to economic interests.
With general elections coming up next year, tackling corruption and their own deteriorating images has become paramount to both the PP and the PSOE.
Recommended Reading :
* Rajoy to declare new anti-corruption law
* Spain to end pardons for convicted corrupt politicians