Protest against oil drilling in Canary Island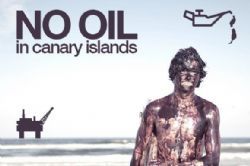 About 200 people, including many tourists, formed a giant "SOS" on a beach on Spain's Canary Islands on Sunday to protest against drilling for oil off the archipelago, a top holiday destination.
Activists staged the protest at the resort of Corralejo on the north coast of Fuerteventura after bad weather forced them to cancel plans to send a flotilla to where Spanish oil giant Repsol began drilling for oil on November 18, about 30 miles off the island.
"We wanted to go reach the prospecting zone and declare there our deep rejection to oil prospecting in the Canaries," said Ezequiel Navio, the head of local government's Global Action office which coordinated the protest.
The flotilla will leave for the oil prospecting site as soon as the weather permits, he added.
Environmental groups including Greenpeace and the World Wildlife Fund, and the local government have campaigned against the oil exploration, saying a spill in the area would harm protected species, coral reefs, tourism and fisheries.
Three-quarters of Canary islanders oppose the oil prospecting, a poll published last week which was carried out for the regional government showed.
"They don't respect us, we have demonstrated before all institutions in the Canaries, town halls, universities, we don't want oil prospecting," said Claudia Morales, the mayor of La Oliva which is responsible for Corralejo.
Spain imports nearly 80% of its energy and the central government argues it can no longer afford the luxury of not taping into its natural resources.
Earlier this month 3 navy boats rammed vessels in which Greenpeace activists were approaching a Repsol ship, video distributed by Greenpeace showed.
An Italian protester fell into the water and was injured, Greenpeace said. It said its activists were protesting peacefully.
The Canary Islands are Spain's 3rd most popular destination after the Catalonia region including Barcelona, and the Balearic Islands.
The archipelago received 10.6 million foreign visitors last year, 17.5% of the total number of visitors to Spain.
Recommended Reading :
* 75% of Canary Island residents oppose oil exploration
* Spanish Navy ram Greenpeace vessel off Canaries