Lycamobile reaches 1.5 mln customers in Spain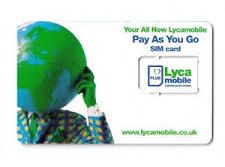 Lycamobile has reached the milestone of 1.5 million customers in Spain, becoming one of the country's leading Mobile Virtual Network Operators (MVNOs) with a 19% share of the market.
The operator announced the figure at the presentation of its plans for 2015, which include the launch of a new prepay offering, dubbed GTMobile, aimed at customers aged 16-30.
GTMobile will have 3 different bundles – priced at EU5, 10 and 15 – depending on the mobile data needs of the customer, and will include 40, 100 and 170 minutes in calls to all operators.
The GTMobile bundles will be available in over 50,000 outlets, including Carrefour, Eroski, Worten and MediaMarkt, as well as tobacconists, newspaper kiosks and service stations.
UK-based Lycamobile has been operating in Spain for over 3 years and currently has nearly 30 million customers in 17 countries, 15 in Europe plus the US and Australia.
Recommended Reading :
* Study into cost of Spain's mobile internet charges
* Spain's worst mobile phone operator : Survey