Spain Decorated 56 Members of Argentine Dictatorship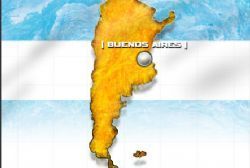 The Spanish State awarded 56 decorations to members of Argentine dictatorship of General Jorge Videla (1976-1981), including 43 officers responsible for the repression, indicated an investigation published today by El Publico newspaper. The source said that Spain is the country that has awarded more decorations to the Argentine regime, which perpetrated numerous crimes and human rights violations, showing also copies of official documents and other sources.
The newspaper said that no decoration has been revoked and some of the now deceased, as Videla and Admiral Emilio Massera, kept their awards until death despite having been stripped of their military ranks by the Argentine State.
Videla and seven more people were given awards in November 1978 before the official visit of King Juan Carlos I, who then personally gave the Collar of the Order of Isabella the la Catholic to Videla, highlights journalist Danilo Albinā's investigation.
That award is given for extraordinary attitudes benefiting the nation or contributing, in a relevant way, to promote friendly relations and cooperation with the rest of the international community.
Massera was also awarded a decoration shortly before an official trip to Spain, during which he met with King Juan Carlos I, Prime Minister Adolfo Suarez, Minister of Defense Manuel Gutierrez and Foreign Minister Marcelino Oreja, among others.
The newspaper's investigation is supported by numerous documents of the foreign service and other sources, because not always the decorations were made public in the Official Gazette.
Recommended Reading :
* The Hypocrisy of Spanish Justice
* Argentina asks Spain to extradite Franco era officials