Spain to seek to banish 'ultras' after fan death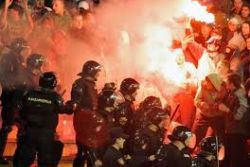 Spain will seek to banish groups of violent fans known as "ultras" from football following Sunday's death of a Deportivo La Coruna fan in clashes in Madrid, a government official said on Monday.
Francisco Javier Romero Taboada, 43, had to be pulled out of the Manzanares river near Atletico Madrid's Calderon stadium before kickoff in a La Liga match against Deportivo and died after suffering a cardiac arrest, hypothermia and head injuries.
Trouble had flared in what appeared to be an organised street battle between ultras tied to Atletico, Deportivo and Madrid-based clubs Rayo Vallecano and Alcorcon.
"It has been proposed to us that we draw up a list of ultras groups to expel them from stadiums and set a timeframe to carry it out," Spain's secretary of state of sport, Miguel Cardenal, told a news conference after a meeting of a government anti-violence commission.
"It is a route some clubs have already taken and the commitment is clear, forceful and I am convinced it will be effective," he added.
One measure under consideration would be to close off the areas inside stadiums where ultras gather, Cardenal said.
Efforts would be stepped up to identify groups with violent tendencies and prevent them from gathering near stadiums on matchdays, he added.
"We want to eliminate these radical elements from the places where football is played and the surroundings. They have no place either inside or outside stadiums."
Real Madrid and Barcelona are among clubs to have barred ultras from attending games in recent years with some success.
Police named the groups involved in Sunday's fighting, some of whom were supporters of Rayo Vallecano and Alcorcon, as Riazor Blues (Deportivo), Frente Atletico, Bukaneros (Rayo) and Alkor Hooligans (Alcorcon).
Officers took 24 people into custody on Sunday and among items seized were firecrackers, flares, sticks and metal tubes.
FASFE, a group representing Spanish football fans, has suggested the police could have done more to prevent Sunday's violence and urged better coordination.
However, Francisco Martinez, a secretary of state for security, noted that the match had not been considered high-risk and there had been nothing to suggest trouble was likely.
The items seized showed "a clear desire for confrontation," Martinez told Monday's news conference.
"Those who arranged to meet yesterday wanted to generate violence and confront each other in a violent way," he added.
Recommended Reading :
* Spain now most expensive for TV football
* Spain'a la Liga lures investors as Soccer clubs improve finances