Catalonia to open new foreign delegations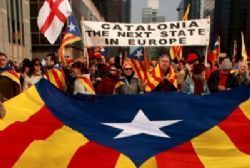 The regional government of Catalonia is working under the assumption that there will be early elections in the region, despite serious discrepancies between the two main secessionist party leaders.
Regional government spokesman Francesc Homs said on Friday that he trusted an agreement will be reached and that the elections, the date of which has yet to be revealed, will serve as a popular plebiscite to measure citizen support for the independence drive.
Catalonia held a non-binding referendum on self-rule on November 9, but its results are not considered legally valid by the Spanish government or by non-nationalist Catalans.
Regional premier Artur Mas, of the ruling CiU bloc, had hoped to convince other secessionist forces to make a joint run in early elections. But the leader of the Catalan Republican Left (ERC), Oriol Junqueras, this week rejected such a move on the grounds that he disagrees with CiU's social policies and that the party in power is too tainted by corruption scandals.
In a bid to secure support from ERC, which wants to declare independence unilaterally if it should win the next elections, the Catalan government is announcing that it will open two new delegations abroad, one in Rome and another one in Vienna, to drum up international support for their cause.
"If there is a project to create an independent state, there needs to be the kind of necessary infrastructure to back Catalonia's desire to be an independent state," said Homs. "I hope these elections will be viewed as support for independence. I think it's going to happen that way, because if [pro-independence] parties win, we will have the obligation to find a solution for this situation."
The regional government currently counts on delegations in Brussels, Paris, London, Berlin and Washington. The 2015 budget allocates €3 million to their upkeep, a 36% rise from the previous budget.
Meanwhile, leaders of the Catalan Socialist Party (PSC) attended an event organized by unionists for the first time on Thursday.
Until now, the activist group known as Societat Civil Catalana had only managed to attract members of the conservative Catalan Popular Party (PPC), as well as Ciutadans and Unión, Progreso y Democracia.
Former Catalan premier José Montilla, first PSC secretary Miquel Iceta and other Socialist regional leaders attended an event meant primarily to support the Spanish Constitution, which was ratified 36 years ago this Saturday.
The Socialist Party does not support Catalan independence, and instead favors a reorganization of Spain's political structure into a federal model that would presumably grant even greater powers to the regions than they have now, while falling short of outright independence.
This model has yet to be explained in public, however, despite calls from the ruling PP for it to be laid out.
Societat Civil leaders were enthusiastic about the PSC's presence at their event. "It's great that they showed up, because it reinforces our message," said president Josep Ramon Bosch.
Recommended Reading :
* Catalonia announces new independence plan
* PM calls on opposition to 'get serious and detail plans for Federal State'