1 in 4 Spanish adults are internet addicts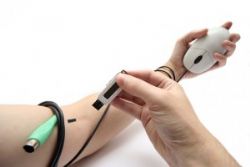 1 in 4 Spanish adults are showing signs of internet addiction, with 26% admitting that their personal lives depend upon their mobile phones, according to a study by consumer group OCU.
Spaniards aged 18 to 64 spend more time on the computer or on their mobiles in their private life than their working life – about five-and-a-half hours a day connected to the internet or on their SmartPhones, which translates to 22 hours a week, compared to 17 hours a week for work.
Most of them do so to read their emails, search for information online, or on social networks, which 85% of those questioned say they have at least one.
Over a third – nearly four in 10 – realised they spend more time online than they thought they did after taking part in the survey.
A total of 78% of respondents own a SmartPhone with internet access, and spend an average of 33 hours a week on it.
Nearly two-thirds say they always have their phones switched on and close by.
The addiction level when it comes to mobile phones, according to the OCU, is fairly low in Spain – on a scale of 20 to 100, they calculate this at 31.4 – although the 18-24 age-group has a higher degree of addiction, at 41 on the same scale.
As for internet content most accessed, 23% say they play video games at least once a week, with 70% of these doing so for a minimum of an hour a day.
A total of 21% of respondents admitted to looking at internet pornography, and 4% bet money online.
Approximately 1,900 people out of a cross-section of society aged 18 to 64 were surveyed, according to the OCU.
Recommended Reading :
* Spain allocates EU52 Mln for rural broadband deployment
* Study into cost of Spain's mobile internet charges