Spain's Rajoy sees growth of at least 2 pct next year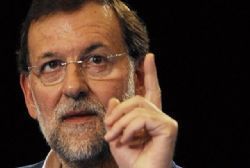 Spain's economy should grow by at least 2.0% next year, making it the EU's fastest growing economy, Spanish PM Mariano Rajoy said during a visit to Mexico on Sunday.
"The government's forecast is that there will be growth of 2.0% next year," Rajoy said at an event in Veracruz, Mexico.
"If certain factors affecting the exchange rate and prices of raw materials persist, Spain can grow more than 2.0% in 2015 ... and it will be the fastest growing country in the EU," he said.
Spain's economy grew 0.5% in Q3, boosted by a rebound in domestic demand, though some economists believe the country will struggle to remain immune to a slowdown among its main trading partners in the Euro zone.
Recommended Reading :
* Spain's PM Rajoy says would stand for election again
* Spain's economy minister sees Q4 growth similar to Q3