Bank of Spain defends oversight of Bankia after IPO probe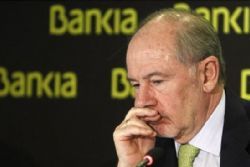 The Spanish central bank said on Thursday that it oversaw "credit entities based on the information elaborated by the banks themselves and taking into account the economic data available."
"Management decisions are the exclusive responsibility of (the banks') administration bodies and management teams," the statement added. The central bank said that it acted independently from the government.
Earlier this week, Economy Minister Luis de Guindos, from the ruling Partido Popular, told parliament Bankia's flotation under the previous administration had been "a political decision", adding that the Socialist government had pushed for the listing to happen and made supervisors look the other way.
At the time of the listing, Bankia was run by a former centre-right PP economy minister, Rodrigo Rato, although the government was Socialist.
Spain's current PP government has distanced itself from another scandal at the former savings bank, which in October announced a probe into alleged tax-free use of company credit cards for personal expenses.
a general election due in 2015, Bankia is still at the centre of concerns regarding corruption and the immunity of the political elite to a crisis which has left many Spaniards poorer and an unemployment rate of 24%.
Bankia has returned to profit under new management since its bailout, but is still majority-owned by the state.
Recommended Reading :
* Bankia nominated Spain's worst company and advert 2014
* Spain's Bankia 9 month forecast up 93%