New flights announced between Birmingham - Spain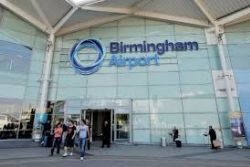 Scandinavian budget airline - Norwegian - has confirmed they will operate flights from Birmingham Airport to Madrid, Barcelona and Malaga from 2015.
Flights will operate three times per week to Madrid and Malaga, and twice per week to Barcelona using the Airline's fleet of B737-800 aircraft.
Flights to Barajas-Madrid airport will run Tuesdays; Thursdays and Sundays from 31st March 2015.
Flights to Pablo Ruiz Picasso-Malaga airport will run Mondays; Fridays and Saturdays from 30th March 2015.
Flights to El Prat-Barcelona will run Mondays and Fridays from 1st June 2015.
The airline already operates 6 routes to Spain from Manchester; Edinburgh and Heathrow Airports.
Flights for the new routes are listed on the website of Norwegian from £39.90 each way, including taxes.
Recommended Reading :
* Change to Alicante Airport Taxi regulations