Spanish Court to Analyze Paternity Suits Against Juan Carlos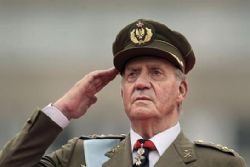 The Supreme Court of Spain will analyze whether dedlare admissible two paternity suits lodged against former king Juan Carlos I, released judicial sources today. According to the version released by EFE state agency, a full session of the Civil Court will decide appeals lodged by the Belgian citizen Ingrid Sartiau and Spanish, Albert Sola, who claim to be children of the monarch who abdicated this year.
The decision will be made after the holidays this year and never before January 7, 2015.
Previously the prosecutor acknowledged that the case is a matter of the Supreme but found no sufficient grounds to initiate the process.
A law passed last July after the abdication and taking on the throne of Philip VI provides that Juan Carlos I can only be tried by the Supreme Court, like the Queen Sofía, Queen Letizia and Princess of Asturias.
Recommended Reading :
* King bars Royals from taking presents
* Spain speculates over Royal divorce