'Gravy Train' Tour of Murcia's Corvera Airport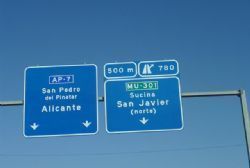 The Concession holder and operator of Corvera Airport - Aeromur - has claimed that they have invested EU30 Mln on bringing the facility to the point where it can become operational, and is paying EU160,000 each month in running costs, despite waiting for the arrival of the first aircraft.
The comments were made as the President of Aeromur, Patricio Valverde, and Director of Corvera Aiport, Ivan Tejada, hosted the delegation of local businessmen, giving a tour of the facility.
The president of the Regional Confederation of Organizations of Murcia (CROEM), José María Albarracín, spoke on behalf of the local businessmen to reiterate their support for both Corvera airport and the arrival of the AVE high speed train to Murcia, where he commented "for entrepreneurs it will be good news to hear that the airport is finally open," where he called upon the regional government to "do all they could to ensure the airport was operational as soon as possible."
The president of the Chamber of Commerce of Murcia, Pedro García Balibrea, also lamented "the disadvantage of Murcia, compared to neighboring regions, not having operational infrastructure like this."
On the other hand, the MEP for the United Left, Javier Couso, criticized the Airport's failure to open as "another example of crony capitalism" and questioned the rationale behind the closure of Murcia's San Javier Airport, and claiming that the Corvera Airport project has "Mortgaged the Region" on nothing more than the whim of former President Ramon Valcarcel.
Recommended Reading :
* Murcia to pay EU7 Mln in Corvera Airport interest by end 2014
* Corvera certificates required end 2014 or new application required