Benidorm Series 7 Returns !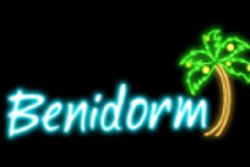 ITV last week confirmed that the new series of Benidorm will air on Friday 2nd January at 9pm UK time – 10pm Spanish time.
Series 7 will see a return to our screens of all the old favourites including Jake Canuso who plays heartthrob barman Mateo, Sherrie Hewson as Solana Manageress Joyce Temple Savage, Tony Maudsley as camp hairdresser Kenneth sporting his trademark micro hot pants. Tim Healy also returns, playing cross dresser Les/Lesley and Janine Duvitski as Jacqueline, sadly without the company of her beloved Donald following the sad death of actor Kenny Ireland this Summer.
Sherrie has been back since filming of the series finished to do some interviews with ex-pats for the Lorraine Breakfast Show, which were aired last month.
The Garvey family - Mick, Janice, Michael and Madge leave during this series but are scheduled to make an appearance in first couple of episodes.
Actor Steve Pemberton who plays Mick said a big part of his decision to leave was based on the fact that he missed his family during the three month filming schedule – but has the door been left ajar for a possible return in future series ...?
However this new seventh series sees the return of many old favourites - Johnny Vegas, who plays The Oracle along with his screen mum Noreen, played by actress Elsie Kelly and Crissy Rock as Janey York – who last appeared as Solana Hotel Manageress in series 4.
Hollywood screen legend Joan Collins makes a comeback as CEO Crystal Hennessy-Vass, following her debut in the final episode of the last series.
A familiar face from days gone by is Only Fools & Horses actor John Challis, who played Boycie and will have a cameo role along with Nadia Sawalha, ex Eastenders actress and Loose Woman presenter.... but there is rumored to be a number of other familiar faces likely to make an appearance.
Further news on all things Benidorm available on Benidormallyearround.com