Spain introduces new restaurant law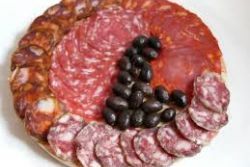 Bars and restaurants across Spain must now specify which foods on their menus could spark off allergic reactions in diners.
Eggs, cereals with gluten, shellfish, nuts – especially peanuts, soya, milk or derivatives thereof, fish, mustard, and even sesame seeds and celery are among the long list of ingredients which must be highlighted.
If they are not shown clearly on the menu, the waiter must be able to inform diners clearly if asked.
As from December 13th the European directive on food allergies has been adopted by Spanish national law, three years after Brussels gave member States notice of its compliance deadline.
Some 340,000 bars and restaurants in Spain are affected and, although the major chains and top-ranking eateries are thought to have prepared themselves for this moment, smaller, family-run establishments may not be ready to do so, says the chairwoman of Spain's Association for Persons with Food Allergies (AEPNAA), Pilar Hernández.
"I dare anyone to go into a restaurant this weekend and ask them about it, and I bet neither the waiter who serves you nor the owner will know anything about the new law," Sra Hernández, who has two children with food allergies, says.
Spain's Hostelry Federation says it has been 'forced to commit' to compliance with a 'complex rule' which 'could not come at a worse time of the year' – when the industry is fully immersed in preparing Christmas dinners, lunches and office parties.
And they could be fined between 5,001 and 600,000 euros if they fail to do so.
But once catering establishments have adapted their menu texts to meet the new requirement, it will mean the two million residents in Spain who have allergies to certain foods will be able to dine out without worrying what is in the dishes they order and whether they may spark off a reaction.
They account for over 5% of the population, or 8% of those aged under 18, and an estimated one in five is at risk of suffering fatal reactions if they consume foods they are allergic to.
And of all serious and potentially life-threatening allergic reactions, seven in 10 happen outside the home.
Food allergies, or intolerance, are on the rise in the western world, despite being rarely heard of as little as 20 years ago.
This is thought to be a combination of 21st-century lifestyle, diet, contamination and environmental exposure of ingredients to a greater or lesser degree.
Recent cases in Spain which have prompted the government to push through the amendment to health and safety laws concerning restaurant menus include a six-year-old boy who died during a school trip to a farm after eating yoghurt, a young man who lost his life after eating food with traces of nuts during an office Christmas party in a Málaga restaurant, and a Murcia man who died in a Chinese restaurant following an allergic reaction to prawns.
Recommended Reading :
* Spain to enforce pointless EU law from midnight
* Spain sees closure of 27 bars per day during crisis