On this day in History : Gibraltar border opens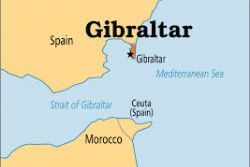 Monday 15th December 1982 : The border crossing between mainland Spain and Gibraltar was opened after being closed by General Franco 13 years earlier during the 1969 'siege of Gibraltar, where the 25,000 inhabitants of the Rock have remained in semi-isolation ever since.
Citing 'Humanitarian reasons' the new Socialist Government opened the pedestrian gates at 1 minute past midnight. However, despite the measure only Spanish citizens or residents of Gibraltar - not British - were initially permitted to take advantage of this new access into Spain.
Plans to open the crossing earlier had been postponed for diplomatic reasons due to Spain's support of Argentina in the Falklands conflict.By 1985 the restrictions on crossing between Gibraltar and Spain were dropped altogether in Spain's bid to push for full membership of the European Community, which was finally realized in 1986
The issue of sovereignty of the Rock continues to cause friction between Spain and the UK, with a referendum poll being held a decade after the 1982 border opening showing how 98.97% of Gibraltarians wished to remain exclusively under the British flag and neither become Spanish, nor a shared territory.
Whilst on / off talks on the subject of Gibraltar continue to be held on a regular basis, diplomats are kept busy by accusations of illegalities on both sides, and stories of conflict, skirmishes and incursions are never far from the front pages of the press.
Read the timeline of the ongoing conflict over Gibraltar by clicking the link > HERE <