Two held over death of Spanish football fan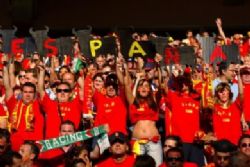 Two men are being held as suspects over the death of a Deportivo La Coruna supporter before a La Liga clash last month, police said on Tuesday.
Francisco Javier Romero, 43, died in apparent organised fighting between Atletico Madrid and Deportivo ultra fans in the Spanish capital on Nov. 30.
"32 ultras have been detained in Madrid, Avila and Toledo over the violent incidents in Manzanares, and among them are the two suspected culprits of the murder," police said on their Twitter feed.
Since the death Spanish authorities and football's ruling bodies in the country have been looking at ways to eradicate fan violence.
Two Paris St Germain supporters were also stabbed outside the Nou Camp stadium following Barcelona's victory over the French side in the Champions League on Wednesday.
"It is not just enough to control the ultra groups, they need to be kicked out of football," Javier Tebas, president of Spain's football league (LFP) told reporters last week.
"We are allowing violence to be committed through football. The LFP firmly believes that working together we can stop this."
Recommended Reading :
* Fans group slams Spain over Ultras crackdown
* Spain to seek to banish Ultras after fan death