Former managers of Spain's bailed-out CCM bank to face trial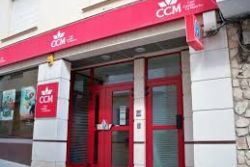 Spain's High Court on Tuesday said it would try two ex-managers of bailed-out Caja Castilla La Mancha (CCM), a small former savings bank whose massive state rescue in 2009 marked the start of a crippling financial crisis.
Though few people have yet been held to account for costly banking failures in Spain - which plunged the country back into a recession it is only just recovering from - court investigations into what went wrong are accumulating.
The former chairman of CCM, Juan Pedro Hernandez, and ex-director general Ildefonso Ortega will be tried on charges of falsifying annual accounts and improper management, the High Court said in a written ruling.
They have been ordered to deposit just over EU138 Mln with the court in the next 10 days to cover potential civil liabilities, or their assets will be seized.
Only some former managers at small Caixa Penedes bank have been convicted after the Spanish crisis, in relation to pension payouts. In the rest of Europe and the USA there have been few trials of bankers following the 2008 global financial meltdown, despite numerous rescues with state funds.
But some probes are gathering steam in Spain, after the weakest banks needed an EU41.3 Bln aid package from Europe in 2012, 4 years after a property bubble burst. The High Court is still looking into Bankia, the biggest state-rescued bank, and its pre-bailout accounts.
CCM, which was later absorbed by Liberbank - another lender which then needed rescue funds - was handed around EU9 Bln in state liquidity lines and guarantees in 2009.
Recommended Reading :
* Spanish court orders ex-bankers to deposit millions of euros
* Spain to take legal action against former bank managers