The Sickest Lard-Arse in Spain ?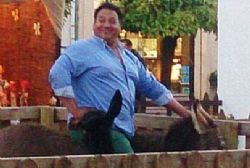 A 5 Month old Donkey has died after being crushed by a 23 stone man at a Spanish nativity play.
Platero was injured after the pie-festooned dullard allegedly climbed over the fence surrounding the nativity scene to sit astride the animal and assume a galloping pose whilst friends photographed the incident.
Just 2 days later Platero struggled to stand and was taken to see the Vet where he was found to be suffering from severe internal injuries. Nothing could be done for him and he had to be put down.
The 42,000 residents of the Andalusian town of Lucena, Cordoba celebrate the nativity each year, and this year's sickening act of cruelty has angered locals and animal rights campaigners alike.
The Lucena Animal Circle and Association for Defence of Donkeys say they are repulsed and outraged and will move 'heaven and earth' to have the man prosecuted if tests reveal his stunt was responsible for the animal's death.
The Town Hall has promised a full investigation, and possible prosecution of the lard-arse, will ensue if the Vet determines that Platero's death was caused as a result of the incident.
Recommended Reading :
* Spain Ebola victim's dog murdered
* Spain's San Isidro : Bulls 3 Matadors 0