EC demands Murcia clarifies conditions of Corvera Airport loan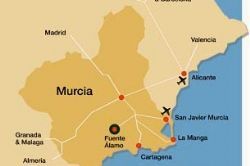 Spokesman for the regional government of Murcia, Josť Gabriel Ruiz, yesterday reiterated the importance of Corvera International Airport to the area.
Ruiz made his comments during a visit to the city of Lorca, where he went on to refer to the facility as 'indispensable', and said how the regional government "will put all mechanisms in place to open the airport as soon as possible".
The Spokesman also maintained that the only interests the government had in Corvera Airport were the same as those of the residents of Murcia.
Tuesday saw the Directorate General of the European Commission give an ultimatum to the region of Murcia to make it clear to Aeromur - the concession holder of the Airport - of the terms and conditions behind the granting of the EU182 Mln loan guarantee.
Of the EU182 Mln already granted to Aeromur, and their majority shareholder SACYR, only EU7 Mln can be used to finance works not yet completed at the facility.
Still no word of when Corvera Airport will be 'officially opened', or welcome it's first flight, though.
Recommended Reading :
* Corvera certificates required end 2014 or new application required
* Murcia to pay EU7 Mln in Corvera Airport interest by end 2014