Losses at Spain's 'bad bank' raise prospect of slow turnaround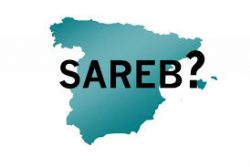 Falling property prices in 2014 are likely to drag Spain's "bad bank" to its second annual loss in as many years, raising concerns that a clean-up of the country's financial sector could take longer than expected.
Two people familiar with the situation said fresh charges linked to weaker asset values in 2014 would likely push the vehicle into the red, disappointing initial expectations of a profit in its 2nd year.
The bad bank, known as SAREB, holds EU50 Bln in land, buildings and loans inherited from bailed-out banks. It was set up to draw a line under Spain's banking and property woes.
But, as it enters its 3rd year, bankers and real estate experts familiar with operations at Sareb say they are concerned that falling property prices are eating into its capital - prolonging the turnaround and potentially even forcing the bank to turn to shareholders for a capital boost.
"There will be losses again as it's very hard to make money in the 2nd year of the vehicle's life, against a backdrop of a weak economy," said one source with knowledge of SAREB's situation.
In 2013, the year it launched, SAREB made an EU261 Mln loss, dragged down by costs, debt payments and charges from potential losses as some property values fall.
The vehicle began making provisions preventatively, after the Bank of Spain said SAREB should revalue its assets at market prices over a number of years.
Fresh charges in 2014 will likely tip it into a loss again.
Bankers and analysts, however, do not agree on whether even hefty losses would force it to bolster capital, and if so, how that might happen.
SAREB's status as a "bad" bank means it is not required to meet capital ratio requirements set by regulators for mainstream banks.
Just under half of SAREB's EU5 Bln start-up equity came from the state, and the rest mainly from other Spanish banks.
SAREB declined to comment. It said it was not clear what the impact of central bank revaluation demands would be on its 2014 accounts.
CHALLENGES AHEAD
House sales have begun picking up in Spain this year as the country emerges from recession, though prices are still falling and have nearly halved over the past 7 years.
This adds to other challenges for the vehicle in 2015, when it will outsource the management of most of its assets to new property companies.
While that may help it sell more of its portfolio in years to come through their networks, sales could be disrupted during the transition, two sources familiar with the process said.
"It's a huge task, it can take months to migrate credit histories," one of the sources said.
Four property firms will manage the assets: Solvia, owned by Sabadell ; Altamira, backed by Apollo Global Management and Santander ; Haya Real Estate, which belongs to Cerberus Capital Management; and Servihabitat, owned by TPG and Caixabank.
They paid EU600 Mln upfront to win the contracts, and will be handed fees over time in exchange.
Recommended Reading :
* Spain's Gov't : 23 reasons to be cheerful
* Spain property prices continue to slide : TINSA