Most Catalans would vote to stay in Spain: poll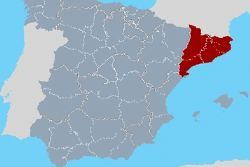 A majority of people in Catalonia would vote to stay part of Spain, a poll by the regional government showed on Friday, the first in years to show a majority against independence.
The margin was very slim, with 45.3% saying they would vote "no" to an independent state of Catalonia, and 44.5% "yes". It is the first time the "no" vote has taken the lead since Catalan head Artur Mas began his drive for secession in 2012.
Catalans cast ballots on Nov. 9 in a symbolic vote on independence after Madrid blocked a formal referendum in the courts on the grounds it was against Spain's constitution.
Some 80% of just over 2 million people who voted backed secession, but the turnout was less than half.
Spain's state prosecutor later brought a lawsuit against Mas, filing criminal charges for serious disobedience and abuse of public funds.
The new poll results showed most Catalans want increased powers on matters such as determining their own taxes, with 64% saying they thought the region had insufficient autonomy.
They also showed anti-establishment political newcomer Podemos making headway in the region, with the party leading the survey in terms of voting intentions in a national parliamentary election.
The regional government polling unit surveyed 1,100 people in Catalonia from Dec. 9 to 13.
Recommended Reading :
* Catalonia to open new foreign delegations
* Catalonia announces new independence plan