Spain gets ready for El Gordo lottery draw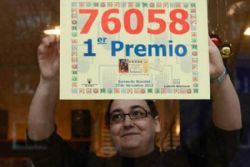 People across Spain are eagerly awaiting the drawing of the Christmas 'El Gordo de Navidad' lottery, the most popular game of chance in the country.
Monday's drawing, with the numbers sung by children from the Colegio de San Ildefonso, will distribute EU2.24 Bln in prizes.
Relatives, friends and co-workers have joined in the traditional buying of shares of lottery tickets for the Dec. 22 drawing, with players hoping to win enough money to give their household finances a boost after years of economic woes in Spain.
The 22 children participating in the drawing, many of them from Latin America, are vying to sing the numbers for "El Gordo" (The Fat One), as the first prize is known, an honor that went in 2013 to Joel Fernandez, an 11-year-old boy from Peru.
El Gordo carries a prize of EU400,000 per tenth of a ticket - known as a 'Decimo'.
The drawing for the Christmas lottery will take place at Madrid's Royal Theater for the third straight year.
The Spanish Christmas lottery has been held every year since 1812 and currently ranks as the world's richest in terms of winnings paid out.
Recommended Reading :
* Spain's El Gordo lottery tax breakdown
* Spain's El Gordo Christmas lottery underway