Spain beats annual tourism record with a month to spare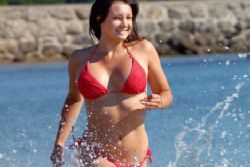 Between January and November this year, more than 61.7 million international tourists visited Spain. That figure is higher than the total for all of 2013, 60.65 million, which is to say that the annual record for tourist visits to the country has already been beaten with a month left to go in 2014.
In terms of volume of arrivals, the Spanish tourist sector appears to be unstoppable, with 23 months of uninterrupted rises. The improved figures are thanks to visits from nearly all nationalities who regularly visit Spain, apart from those from Russia, a segment that has seen a sharp fall due to the weakness of their currency.
Spain is likely to finish the year with a total of 65 million international tourist visitors, according to figures from the Spanish Institute of Tourism Studies.
Last year saw the country break the 60-million barrier for the first time. The figure looked like it would be difficult to beat, given that it was partly due to the weakness of other tourist markets, such as Egypt, which was the victim of political instability during the year.
But the record has already been broken, with a month to spare. December 2013 saw three million tourist visitors; if that figure is repeated, this year will end with a total of 64.7 million.
The UK continues to be the main source of these tourist visits to Spain, accounting for 25% of the total. Between January and November, 14.3 million Britons came to visit, a rise of nearly 5% on the same period last year.
French, Italian and Belgian visitors saw the greatest rise, of more than 10% each.
Only Russia saw falls, with a 9.7% reduction in visitors between January and November.
In terms of regions visited, the figures reveal that Spain is no longer just a destination for those seeking sun and sand. The Madrid region, for example, saw an 8.3% rise in foreign visitors between January and November. Meanwhile, seven of every 10 rural vacation homes are already fully booked for New Year's Eve, according to the booking website Escapada Rural, which accounts for 80% of the market.
Recommended Reading :
* Spanish Hotels expect 8% increase in winter bookings
* Spain sees foreign visitor numbers up 7.4% on 2014 y-t-d