Bank of Spain sees faster economic growth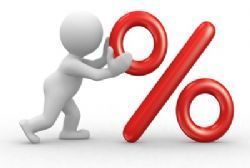 The Bank of Spain on Tuesday raised its economic forecast for 2014 and said growth accelerated in Q4, echoing optimism among analysts that falling oil prices will strengthen the country's recovery.
Predictions of a greater-than-anticipated growth spurt in Spain are accumulating -- a sharp shift away from worries a few months ago that its struggle to shake off recession would be held back by a slowdown in other euro zone economies including France.
A faltering euro zone still posed a risk, the central bank said in an economic bulletin, and it flagged oil prices, which have halved since June, as another uncertainty for a country that imports most of its energy.
But it estimated Spain's gross domestic product (GDP) was on course to grow 0.6 % Q-on-Q in the last 3 months of the year. That compares with 0.5% quarterly growth in the previous 2quarters, according to official data.
The Bank of Spain also raised its forecast for 2014 GDP growth to 1.4% from 1.3%, while maintaining a 2% projection for 2015.
"The likely weakening of our export markets throughout next year should be compensated by a further improvement in financing conditions, the depreciation of the euro exchange rate and the considerably lower oil prices," the central bank said.
It added that consumer spending had risen in Q4.
Spain has emerged from a 6-year struggle to shake off recession to become one of the fastest-growing economies in the euro zone. Falling government debt costs have helped as fears over the break-up of the euro receded, and the more favourable borrowing costs are slowly being passed on to stretched companies and households.
The treasury ministry said on Tuesday the country's public deficit was 3.62% of GDP at the end of the third quarter, putting it on course to meet a year-end target of 5.5% and offering some spending leeway for next year.
In 2015, a general election year, planned tax cuts, especially for those on lower incomes, as well as a pick-up in the construction sector after a 7-year slump in activity should help underpin Spain's recovery, some economists say, though unemployment is still well above 20%.
Think tanks including Funcas and companies' association CEOE have raised their growth forecasts for next year, predicting 2% and 2.4% respectively.
Recommended Reading :
* Spain's Gov't : 23 reasons to be cheerful
* Spanish regions likely to overshoot deficit targets