Spain's Felipe VI condemns corruption in first Christmas speech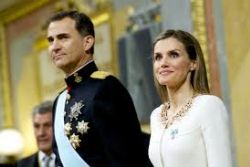 Spain's King Felipe VI lashed out against corruption in his first Christmas Eve address but made no direct reference to his sister, Cristina de Borbon, who was ordered on Monday to stand trial for tax crimes.
Felipe was crowned in June after his father Juan Carlos abdicated following scandals that hit his popularity, including tax fraud charges against his daughter Cristina, who is the first Spanish royal to face prosecution.
Investigations into the affairs of Cristina and her husband Inaki Urdangarin are among several high-level corruption cases that have angered Spaniards after a major economic crisis and government austerity drive.
"Few subjects arouse such a unanimous opinion. We mustn't hesitate to cut corruption at its roots," Felipe said in his first televised holiday message.
The new king, who is riding high in opinion polls, has taken steps to modernize the monarchy such as stripping royal rights and duties from his two sisters, who are no longer formally part of the royal family.
Felipe also called for "strength in unity" in a nation threatened by a separatist movement in Catalonia. Last year, Catalonian public television did not air King Juan Carlos' Christmas speech in protest over the central government's stance on the contentious issue.
Recommended Reading :
* Rajoy : "There is no such thing as generalized corruption in Spain"
* Rajoy to declare new anti-corruption law