Spain increases minimum wage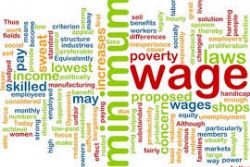 The Spanish government on Boxing Day approved a EU3 increase to the minimum wage.
PM Mariano Rajoy announced the measure following a Cabinet meeting yesterday, confirming that the minimum monthly wage now stands at EU648.60.
The major trade unions immediately branded the gesture "insufficient" considering the increase in the cost of living over recent years.
Rajoy himself called the increase "modest", but insisted that it will benefit those already on the wage, as the increase was frozen in 2012, and only came to 0.6% last year.
>The trade unions have demanded a 12.5% increase for 2015, which would bring the minimum wage to EU725, to be followed by an increase of 10.2% in 2016, which would bring the minimum wage to 2016 in order to address the escalating cost of living in Spain over recent years.
Spain's Trade Union leaders sent a joint letter to the minister of Employment and Social Security, Fatima Baņez, in which they expressed their disapproval of the amount the minimum wage would increase by.
The letter explained that the prolonged economic crisis is not an adequate excuse to keep the Country's the minimum wage at just 60 % of the average net salary, which would equate to more than EU900 per month.
Within the EU, only Portugal and Greece have a lower minimum wage than Spain.
Recommended Reading :
* 60% of young Spaniards plan to move abroad to find work
* 50% of Spain's workers earn under EU1,000 per month