Castellon Airport : Financial Audit for FY 2013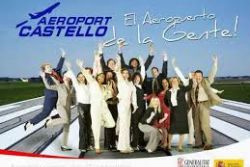 Castellón Airport ended 2013 with a loss of EU3,735,173, a 50.5% improvement on 2012 when it lost EU7,547,075.
The figures were quoted in the Autonomous Community of Valencia's 2013 Public Sector Audit, which was presented before the Generalitat Valenciana on Monday.
The report notes that the operating profit of Castellon Airport's concession holder, Aerocas, is affected by a lack of revenue from the facility, however it notes that it received payments of EU3,000 for 'services' during 2013.
In the financial result amounted to a EU1,450,545 loss, 32.5% lower than in 2012, mainly because the assumption of debt by the Generalitat.
The equity of Aerocas as of December 31st, 2013 stood at minus EU42,914,446, with a negative working capital amounting of EU34,096,252.
However, the report noted that it was only the influence of the majority shareholder of Aerocas (The Generalitat Valenciana) which prevented the entity from entering bankruptcy.
Unpaid debts to suppliers also reached EU7,494,059 by the end of 2013 which, according to estimates, came to EU1,369,085.
Moreover, the financial statements for 2013 have been presented to the Audit Office, but without the audit report of annual accounts.
In conclusion, the report notes that the balances of the 'Tangible assets' and 'Grants, donations and legacies' are overvalued by some EU8,818,194, and this should therefore be taken into account when considering future financial implications at Castellon Airport.
Recommended Reading :
* Castellon Airport "Open end 2014"