Ciudad Real Airport sale continues after 12 months of indifference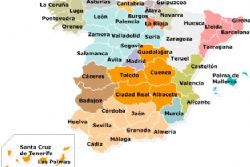 It was just over 6 years ago - 18th December 2008, to be exact - that Spain's Ciudad Real Airport officially opened (for the first time, at least).
The Castile-la-Mancha facility - also known as Don Quixote Airport - finally filed for Bankruptcy just 18months later.
However, since December of 2013 the administrators of the airport have tried unsuccessfully on a number of occasions to offer the facility for sales in a number of auctions, which have all failed to attract any interest from valid purchasers who could meet all of the conditions of sale.
Earlier this week saw the receivers file yet another request to the commercial courts of Ciudad Real for yet another extension to the process to attract a buyer - 1 year to the days since the first failed attempt to find a buyer for minimum bids of EU100 Mln.
Successive attempts has since seen the minimum asking price fall to EU80 Mln.
Get the message !
As it seems that the administrators and receivers of Ciudad Real Airport themselves are in need of a reality check on possible reasons as to why nobody is interested in buying the failed facility, here is a brief reminder :
* The INE recently reported how Ciudad Real only sees between 1'300 and 5'000 Hotel room nights from foreigners each month, and with the Town only having a population of 75'000 it makes the airport something of an unnecessary indulgence.
* The Facility was originally marketed as a 'Feeder Airport' for both Madrid and Andalucía - despite being located over 200km away from either.
* The AVE high speed train does not yet come to Ciudad Real
* The Airport was built to a capacity of 7 Million passengers per year. By contrast Alicante Airport (conveniently located in the heart of the popular Costa Blanca) receives around 9 Million passengers per year (What exactly does the town of 75'000, 200km from anywhere, think they have to offer 7 Million visitors ?)
* The Airport was built at a cost of EU1 Bln, and closed with debts of around EU150 Mln just 18 Months later - largely due to poor footfall. What Exactly are the administrator proposing has changed in the last 4 plus years ?
Recommended Reading :
* Spain's Ciudad Real Airport 6th most visited in world 2013
* No bids received in Ciudad Real Airport sale