Punctuality Survey on UK Airlines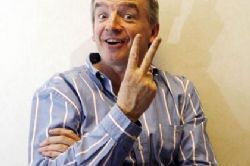 Consumer comparison website Which? has reported that 20% all flights to and from 10 UK airports surveyed are struck with delays.
The definition commonly observed by the travel industry for a flight to be 'on time' is if it arrives within 15 minutes of the advised time, however 1 in 5 of all flights to the UK's major airports fell into the 'delayed' category.
Flybe is the least delayed of the UK airlines with an average delay of 10 minutes for flights to the UK between September 2013 and August 2014.
Ryanair flies 7 of the most punctual routes to the UK including flights from Sandefjord in Norway and Gdansk in Poland, which were delayed by an average of less than 1 minute.
Monarch and Thomas Cook are the only 2 airlines that fail to meet the industry standard of 'on time', with average delay times of 17 minutes and 18 minutes respectively when travelling from ten popular destinations to the UK.
Passengers 'could' claim delay compensation
The report reveals that 37% of passengers have experienced a flight delay in the last 2 years, with as many as 21% of those delayed being held up for more than 3 hours. Despite this only 38% claimed the compensation they were entitled to, and 44% said they'd be happy to pay up to £50 more for a £250 flight, if the airline had an excellent rather than average punctuality record.
CAA flight punctuality figures
Which? Travel analysed monthly flight punctuality data published by the Civil Aviation Authority (CAA) for all flights to ten UK airports - Birmingham; Edinburgh; Gatwick; Glasgow; Heathrow; London City; Luton; Manchester; Newcastle and Stansted - between September 2013 and August 2014.
The UK's 8 largest airlines : British Airways; Easyjet; Flybe; Jet2; Monarch; Thomas Cook; Thomson; Ryanair and Virgin - were all reviewed, with routes including Australia, Canary Islands, France, Germany, Greece, Italy, Portugal, Spain, Turkey and the USA.
Best and Worst :
After ranking all Airlines flying short-haul routes to and from the UK, Which? gave each a percentage in order to rank them in order of punctuality, finding the following :
Best :
Swiss 82%
Aurigny 81%
Norwegian 77%
Worst :
Thompson 49%
Ryanair 44%
Thomas Cook 38%
On long-haul routes Singapore Airlines and Emirates are top with American and United bottom. The Which? Travel survey results are based on more than 11,000 member experiences of flying with the airlines featured.
Further details of the survey can be seen by clicking the link here Which?
Recommended Reading :
* EC slams wasteful spending at Spanish Airport
* Spanish consumer association calls for end to airport privatization