EU Instructs Spain to Install More Wind Turbines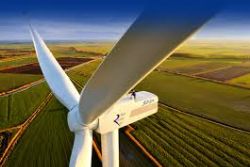 The Spanish Government must install between 4.55GW and 6.47GW of Wind Turbines by the year 2020 if it is to meet EU targets, according to domestic industry association AEE.
In real terms, this means the installation of 900MW-1.3GW for each of the next 5 years.
However, the association says that under the terms of Madrid's current energy policies - which include retroactive cuts to subsidies - there has been an effective suspension of any new wind-powered installations, with just one 80kW installation being approved in 2014 to July.
New projects ground to a halt following the Government's changes to the subsidies offered to wind power producers through the suspension of 'feed-in tariffs', to annual set-fees as from the year 2013-2014.
The changes led to billions of euros in write-downs among alternative energy producers, resulting in a series of legal complaints against Spain that are still to be resolved by the courts.
The measure has seen investment in Spain's alternative energy companies grind to a halt.
Recommended Reading :
* EU to investigate Spain's illegal energy bills
* Spain announces details of green energy subsidy cuts