Uber complies with Spain's court ban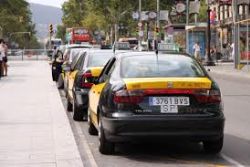 The internet-based Car Sharing service, Uber, has announced on their website that they are suspending their activities in Spain.
This follows the Spanish Supreme Court ruling last week that called for the US-based company to cease all operations within the country.
The highly controversial UberPop service works by bringing random drivers and passengers together each others' service, and enables users to transform into an Uber driver from a private driver by simply following a few registration steps without meeting any local licensing requirements.
Uber has earlier released an updated version of its app on the Android platform to help some circumnavigate the ban, after Spanish Internet service providers began blocking the site following orders from Government authorities.
In response to the earlier measure, representatives from Uber blogged "The Spanish Competition Authority (CNMC) has clearly stated that current transport restrictions are anti-competitive and restrict the entry of new players into the market – to the detriment of the consumer. The CNMC has also stressed the need to regulate the sharing economy in favor of consumers, as has the Catalan Parliament with a recent vote to establish guidelines on collaborative consumption".
Uber also launched a protest hashtag (#yoapoyouber, #isupportuber), which attracted a significant level of support from the Spanish public, and seems to have reassured Uber of the continuing demand for their services. As such they have hinted that the service will return to Spain once the legal issues have been addressed.
Uber's web-announcement continues "During this temporary suspension of uberPOP, we will also collaborate with Spanish politicians to develop the modern framework needed to create a permanent home for Uber and the sharing economy – and fortunately Spanish leaders have already been standing up for the innovation economy."
Only last week Spanish Consumer Association FACUA released a detailed study into the varying costs of Taxi Tariffs across 40 cities in Spain, finding that on the whole costs charged were "illegal and abusive". Until the authorities are prepared to address such irregular costs, there will always be a demand for an alternative service such as Uber.
Recommended Reading :
* Study into Spain's Taxi fares
* Change to Alicante airport taxi regulations
* Uber still operating despite court ban