"Where is Corvera Airport ?" Youtube Prank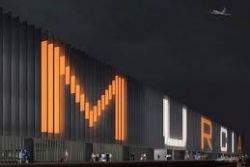 Corvera Airport has fallen victim to being subject of a prank during Spain's 'dia de los Inocentes'.
December 28th marks the celebration of King Herod's failure to kill the baby Jesus, as told in Saint Matthew's Gospel, and where people in Spain today celebrate by playing pranks on each other.
As part of the festive good humour, the Socialist Youth of Murcia used the event to parody the continued failure of the regions' Corvera Airport project.
A Youtube clip shows a comedy sketch of a young man with a suitcase, pretending to be a passenger going to catch a plane, ask people strolling through the Plaza Cardenal Belluga if they know where Corvera airport is.
Obviously to the bemusement and amusement of many locals, it gave many the chance to criticize recent developments at the Airport.
Only last week the regional government announced how they have released the concession holder of the airport, Aeromur, from their contract for a second time in as many years and will instead be putting the project out to tender once more.
Only 4 weeks ago the region was still claiming that Corvera Airport would be open by the end of 2014.
Recommended Reading :
* December 28th : Dia de los Inocentes
* Spain's Corvera Airport takes a backwards step
* Corvera Airport to open mid-December