Madrid's Atocha evacuated after bomb scare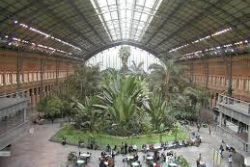 Madrid's Atocha main train station, the scene of a 2004 bomb attack which killed nearly 200 people, was evacuated on Friday after a bomb warning that turned out to be false.
A man on a commuter train had been threatening to blow up himself, and another passenger pulled the emergency brake, a spokeswoman for the Spanish police said. The police said he had no bomb.
Train services were temporarily suspended and will resume shortly. The man was being held for questioning, she said.
A series of bombs planted on Madrid trains by violent Islamists killed 191 people in March 2004.
Recommended Reading :
* Spain marks 10th anniversary of Madrid bombings
* Spain's PP presents terror laws without consulting PSOE