Madrid Police officer killed after being pushed onto train track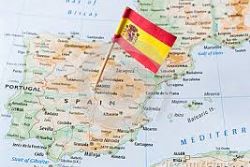 A 28-year-old National Police officer was killed on Friday after being run over by a train at the Embajadores station in Madrid.
The incident is reported to have taken place at around 12pm, after the policeman requested to see the identification papers of a man in the station.
Sources from the authorities say that the man "intentionally" pushed the officer, and fell down onto the tracks with him. Both were hit by a train, but the citizen escaped with injuries.
The C5 line is the only commuter train to pass through Embajadores, and connects the Móstoles and Humanes stations. Services were suspended between the stations of Atocha and Laguna.
Via their Twitter account, the National Police said that they were "deeply concerned and in great pain over the death of our colleague who was working to ensure citizens are safe."
The incident was the second to cause disruption to Madrid's transport networks on Friday, after a false bomb alert in Atocha station earlier in the morning.
Recommended Reading :
* Madrid's Atocha evacuated after bomb scare
* Spain backs UK on EU justice decision