Spain Strong Arms US Congressman Over Gibraltar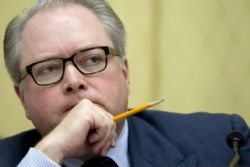 Spain attempted to strong arm a US Congressman into retracting his support for Gibraltar and used their involvement with the US led initiative against the Islamic State terror group as leverage a report in the Sunday Express has revealed.
According to the newspaper, a letter by Spain's ambassador to Washington, Ramon Gil-Casares was sent to Congressman George Holding urging him to drop an initiative calling for the House of Representatives in Washington to formally recognise Gibraltar's right to self-determination.
In the letter, dated September 2014, Gil-Casares wrote – "Since the issue is a bilateral one between two NATO allies, my government desires that it remains in that context, without any intervention of any third parties, whatever their good intentions may be..."
"Leaving aside the political opportunity of such a Resolution, precisely when my country is an active member of the United States led coalition against ISIL (now known as Islamic State), as Ambassador for the Kingdom of Spain to the United States of America I respectfully and deeply regret that such a text has made its way to the Venerable House of Representatives."
Many analysts have described the letter as a "veiled threat"
British MP's were appalled to learn of the text and described Spain's move as tasteless, desperate and a new low for Spanish politics.
Leaving aside the Gibraltar issue, this "dirty trick" demonstrates the depths the Spanish government will sink to in order to get what it wants.
Reacting furiously to the news, Andrew Rosindell MP, chairman of the parliamentary Overseas Territory group said "To use the war against terror as a lever over the issue of Gibraltar, a situation of its own causing, and so soon after the beheadings of British and American citizens, is absolutely shameful".
The letter continues "the Gibraltar issue must be resolved through bilateral negotiations between the UK and Spain and that the interests of the people of Gibraltar must be 'borne in mind' ", however the letter fails to recognise the wishes of the Gibraltar people.
The US Congress initiative in support of Gibraltar is backed by 8 US congressmen and women.
Congressman George Holding has pledged to continue his support, despite Spain's intervention. Speaking to the Sunday Express he said "The citizens of Gibraltar have freely and democratically expressed their wish to remain a British Overseas Territory – and it is certainly my intention to support them moving forward".