EU Single Sky Deal on Ice over Gibraltar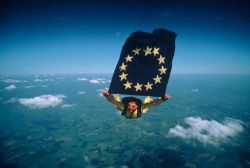 The Single European Sky initiative aimed at increasing safety whilst reducing travel times and jet emissions has been put on ice after Spain successfully blocked Gibraltar from being included in the deal.
During a top-level meeting between EU member states, EU chiefs spectacularly sided with Spain and excluded Gibraltar from the important piece of air travel safety legislation.
The move infuriated Robert Goodwill, Britain's under secretary of state for transport, who stormed out of the gathering and refused to rejoin the group despite the meeting continuing to discuss other topics.
The move has effectively put the air safety plan on ice and will require new negotiations if there is any hope of reviving it.
Spain has been threatening for more than a decade to exclude Gibraltar's airport from any single sky deal, however a draft version of the text always included Gibraltar Airport.
Reviving the threat, Spain enlisted the help of Italy who were keen to see the deal completed whilst holding the rotating EU presidency. The only mention of Gibraltar in the revised text stated in a footnote that 'the question on how to reflect the Gibraltar issue in the text is awaiting the outcome of discussions between Spain and UK'.
Spain does not allow aircraft en-route to Gibraltar to use its airspace, yet a merged EU Single Sky could change this. Likewise, if Gibraltar was excluded from the EU Single Sky, Spain could further flex its muscles against Gibraltar and in theory prevent aircraft from using any EU airspace en-route to the British overseas territory.
Although Mr Goodwill objected to the revised text of the deal, EU chiefs railroaded him saying a deal had already been reached.
The move by EU chiefs and Spain has been described as political point scoring.